OUC's Board of Commissioners moves to retire Unit 1 coal plant by no later than 2025
Date posted
December 15, 2021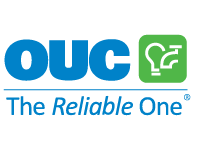 By Michelle Lynch
Orlando Utilities Commission

ORLANDO, Fla. — On Tuesday, Dec. 14, OUC — The Reliable One's Board of Commissioners formally approved the retirement of Stanton Energy Center's (SEC) Unit 1 by no later than 2025 and the conversion of SEC's Unit 2 to natural gas by no later than 2027. Previously, Unit 1, OUC's oldest coal-fired power plant, had been slated for conversion to natural gas.
"Today's official adoption by our Board of Commissioners is further proof of our commitment to meet our goal of Net Zero CO2 emissions by 2050 with interim targets of 50% by 2030 and 75% in 2040," said Clint Bullock, OUC General Manager & CEO. "The retirement of Unit 1 also is a significant milestone toward fully eliminating coal-fired generation no later than 2027. As we continue our transition to clean energy, operational flexibility is key to maintaining the reliability, resiliency and affordability our customers expect."
The retirement of Unit 1 became possible with the recent purchase of the Osceola Generating Station, a 510-megawatt (MW) simple-cycle natural gas-fired power plant located in Harmony in Osceola County. As OUC aggressively increases its reliance on solar energy, OSG will be used to mitigate solar production fluctuations to maintain system-wide electric reliability. Currently, the facility is undergoing renovations and testing and will be fully operational by no later than 2025.
In December 2020, OUC leadership recommended significantly reducing the use of coal by no later than 2025 and eliminating it entirely by no later than 2027. The announcement was the result of the utility's Electric Integrated Resource Plan (EIRP). OUC is on its way to meeting its strategic objectives, which include continued investments in renewable energy and energy efficiency and driving the adoption of vehicle electrification and energy storage.
###
About OUC—The Reliable One
Established in 1923 by a special act of the Florida Legislature, OUC—The Reliable One is the second largest municipal utility in Florida. OUC provides electric and water services to about 400,000 accounts in Orlando, St. Cloud and parts of unincorporated Orange and Osceola counties. Visit www.ouc.com to learn more about our commitment to reliability, affordability and sustainability.