Public Power Communities Receive "Building Strong Communities" Awards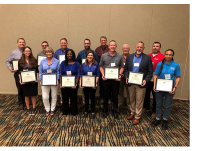 Fourteen public power utilities today were recognized by the Florida Municipal Electric Association (FMEA) with "Building Strong Communities" awards for their efforts to offer their local communities with extra services and programs above and beyond what they normally supply.
The awards were presented at the annual FMEA Energy Connections Conference and Trade Show in Kissimmee. Winners were selected for community improvement programs that included: community education, crime prevention, charitable donations, programs that protect the environment and other special services, such as lighting ball fields and playgrounds, parade participation and hosting blood mobiles. 
"Public power is community power. Everything public power utilities do is driven by their community and our members work hard every day to ensure they are not only providing the most affordable, reliable power possible, but also giving back to the communities they serve," said Amy Zubaly, FMEA Executive Director. "We commend today's award recipients for the positive impacts they have on their communities and the work they do to enhance the quality of life of their families, friends and neighbors."  
This year's recipients are: 
Beaches Energy Services
City of Bartow
City of Bushnell
City of Leesburg
City of Newberry
City of Tallahassee
City of Winter Park
Gainesville Regional Utilities
Keys Energy Services
Kissimmee Utility Authority
Lakeland Electric
Ocala Electric Utility
Orlando Utilities Commission
Utilities Commission City of New Smyrna
Pictured: Back row (L-R): Eric Weaver (Ocala Electric Utility); Dan Sollitto (Utilities Commission New Smyrna Beach); Chris Gent (Kissimmee Utility Authority); Julio Torrado (Keys Energy Services); Brad Hiers (City of Bartow); Rick Amato (Beaches Energy Services); Korey Bush (Lakeland Electric)
Front row (L-R): Jamie English (City of Leesburg); Tammy Snyder (City of Newberry); Rhonda Reaves-Smith (City of Tallahassee); Lynn Scott (Beaches Energy Services); Eddie Fee (Orlando Utilities Commission); Dan D'Alessandro (City of Winter Park); Yvonne Ferguson (Gainesville Regional Utilities)
Not pictured: a representative from the City of Bushnell