STATEMENT BY: Amy Zubaly Regarding Public Power Preparation for Tropical Depression Fred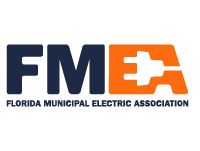 "Florida's public power utilities are closely watching Tropical Depression Fred, which is forecasted to impact Florida's west coast from the Keys to the Panhandle and Big Bend region and restrengthen to a tropical storm prior to making landfall early Monday morning. With impacts expected across the Florida Panhandle, the Florida Municipal Electric Association has activated its mutual aid network and is prepared to send mutual aid crews to affected communities.
Currently, mutual aid crews from Florida public power utilities throughout the state, as well as those in neighboring states, are on stand by and ready to assist impacted areas, particularly those in Key West and the north Florida area, if needed. The Florida Municipal Electric Association remains in close communication with all Florida public power utilities and will continue to facilitate mutual aid as the storm continues to develop.
As we approach Florida Lineworker Appreciation Day on August 26, we are once again reminded of the dedication and selflessness of all the lineworkers and power restoration crews standing by, prepared to leave their homes and their families, to assist other public power communities impacted by Fred."