Bill Targets Local Regulation of Energy Projects
Date posted
January 28, 2021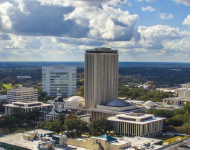 A proposal filed Wednesday in the Florida Senate would prevent local governments from regulating construction of a wide range of energy-related projects involving electricity and such things as natural gas and petroleum.
Senate Regulated Industries Chairman Travis Hutson, R-St. Augustine, filed the proposal, which would give the state regulatory control of "energy infrastructure" projects. The bill (SB 856) --- known as a "preemption" bill --- would prevent local governments from passing ordinances or regulations that could prevent or restrict the "construction of new or the expansion, upgrading, or repair of existing energy infrastructure." The measure is filed for consideration during the legislative session that will start March 2.
Article reposted with permission from The News Service of Florida.