Florida Lineman Competition Participants Detail Preparations
In a recent Q&A with the Florida Municipal Electric Association (FMEA), Dwayne "Goose" Goostree, T&D Operations Manager for Lakeland Electric and a chief event judge for the FMEA's 2020 Florida Lineman Competition, as well as Chris Kitting, a Kissimmee Utility Authority Lineman Apprentice II, discussed their preparations for the annual Competition and the benefits of taking part in the event.
Goostree was one of the original participants in the Florida Lineman Competition, as has been participating in the event as both a competitor and judge for the past 20 years. Kitting has participated in two previous Florida Lineman Competitions and one APPA Public Power Lineworkers Rodeo. This year will mark his third Florida rodeo and second national rodeo.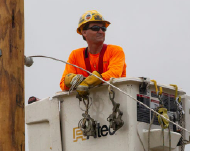 This year commemorates the 20th anniversary of the Florida Lineman Competition, which will be held in Tallahassee, Fla., and hosted by the City of Tallahassee. The Florida Lineman Competition will be held March 13-14, 2020.
QUESTION: What are the primary reasons you signed up to participate in the 20th anniversary of the Florida Lineman Competition?
Goostree: Because I have been involved in the competition since its inception either as a competitor or as a judge. Right now, I'm a Chief Event Judge, but don't ever count me out to compete again one day.
Kitting: I signed up for the Florida Lineman Competition because I enjoy the competitive atmosphere of the event and also enhancing my skills in the trade of line work. It's a great opportunity to learn new aspects of the trade, but also sharpen skills that I may not use every day.
QUESTION: How are you preparing for the Florida Lineman Competition this year?
Goostree: We have had a couple of Master and Chief Event Judges meeting to hammer down the events along with numerous emails flying back and forth. We've met with the City of Tallahassee Utilities to go over the field and logistics, and scheduled a build day at the beginning of March. I'm also answering questions on the event Q&A page that competitors send in about my event.
Kitting: I have been training weekdays and weeknights when possible and also on the weekends. I have tried not to focus all my attention on a single event. I may practice one event a few times and then move on to another one.
QUESTION: What are the benefits of participating in the Florida Lineman Competition or how does participating in the competition help you do your job better?
Goostree: You get to see and learn new techniques from other competitors that you may never have thought of to perform your job safer and with more efficiency. Also, networking with the other utilities allows you to have a pool of resources you can pull from if needed, especially during emergencies and natural disasters.
Kitting: I feel that participating in the event helps me learn tasks that we may not do very often, so when the time comes, I'm prepared and trained. It's a great training for apprentices.
QUESTION: What are you most looking forward to at this year's competition in Tallahassee?
Goostree: I'm looking forward to catching up with all my friends from other utilities that I've made over the years and seeing how the younger generation of lineman do with the events we have laid out for them. My event is a new one that we've never done before in past competitions, so I want to see how different they will do it in regards to how I would. Even though I'm not competing, I'm always measuring the competition!
Kitting: I'm looking forward to the competitive atmosphere but also comradery amongst other apprentices.
FMEA also spoke with several competitors from this year's host utility, the City of Tallahassee. Here's what Journeymen Justin Johnson and Cameron Wood, as well as Apprentice Rico Bobbins, had to say about competing in the 20th Annual Florida Lineman Competition.
Justin Johnson, Journeyman – 6 years' experience, second competition as a Journeyman
"I enjoy the Florida Lineman Competition because it is a chance for me to improve my comfort level doing things that we don't normally do – it's like when we are out on Mutual aid - especially all the climbing."
Cameron Wood – Journeyman for 20 years, first rodeo
"I have been going to the competition all 20 years and I am excited to compete this year. I know all the guys competing and have worked with them through all these storms the last few years, so when they asked for volunteers I stepped up."
Rico Bobbins, Apprentice – 4 years' experience, looking forward to competing as a Journeyman next year
"It's great to see the guys get their heads together to figure out these events. We get to practice in a deenergized environment like this, so when we are out after a storm, we feel a lot safer because we have done it before getting ready for the rodeo."