FPL Rate Hikes Hit with Second Challenge
Date posted
January 4, 2022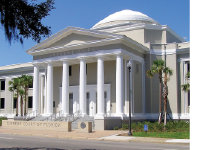 TALLAHASSEE — A decision by regulators to approve base-rate increases for Florida Power & Light drew a second challenge Monday at the state Supreme Court.
The groups Florida Rising, the Environmental Confederation of Southwest Florida and the League of United Latin American Citizens of Florida filed a notice that they are appealing the rate approval by the state Public Service Commission. The group Floridians Against Increased Rates filed a similar notice of appeal last week. As is common, the notice filed Monday did not detail arguments that the groups will make at the Supreme Court.
The Public Service Commission in October unanimously approved a settlement that allows FPL to raise electric rates over four years. FPL was given the go-ahead to raise rates in 2022 to generate an additional $692 million in annual revenue, followed by increases in 2023 that will generate $560 million in annual revenue. Additional increases are planned in 2024 and 2025 to pay for solar projects.
FPL reached the settlement with the state Office of Public Counsel and several organizations that took part in the case. The Office of Public Counsel represents consumers in utility issues. The groups that have filed the notices of appeal at the Supreme Court did not take part in the settlement. In a Dec. 2 written order that carried out its October vote, the Public Service Commission said the settlement "provides a reasonable resolution of all issues raised, establishes rates that are fair, just, and reasonable and is in the public interest."
Article reposted with permission from the News Service of Florida.
###