KUA Crews Head to Louisiana to Assist with Hurricane Ida Power Restoration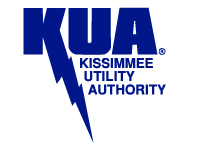 Kissimmee Utility Authority crews are en route to Lafayette, Louisiana this morning to assist with the restoration of power as Hurricane Ida makes landfall in the Gulf Coast today. The convoy departed Kissimmee just after 7:30 a.m. and will pre-stage in the Pensacola area before arriving in Lafayette on Monday. Lafayette is located approximately 135 miles west of New Orleans.
As part of KUA's mutual-aid agreement with utilities across the nation, the utility sent 10 linemen and a convoy of vehicles to Lafayette to assist Lafayette Utilities System. KUA crews are no stranger to Lafayette, having spent five days there in October, helping to restore the electric system following Hurricane Delta.
The two crews who traveled from KUA include: George Blair, Eddie Gluc, Shane Paras, Kevon McKinsey, Brendan Laflamme, Chris Kitting, Garry Lamb, Brandon Kessler, Robert Rivera, and Dustin Kelley