Lakeland Electric Announces Target Date to Shutter Coal-Powered Generator
Date posted
January 4, 2021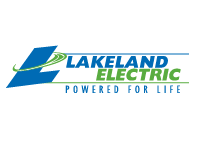 Lakeland Electric announces a target date of March 31, 2021, to shutter the utility's coal-powered generator, McIntosh Unit 3. "This was a difficult decision to make, but in the end, there was a compelling business case to shutter the unit this spring," said Joel Ivy, General Manager of Lakeland Electric. McIntosh Unit 3 is jointly owned with Orlando Utilities Commission, which owns 40% of the unit.
The coal-powered generator has required increasingly expensive repairs while showing declining efficiency and unreliable performance. In addition, the large inventory of coal required to run the unit represents a multimillion-dollar risk to the utility should the unit fail unexpectedly. An extensive analysis of these and other factors led to the decision to shutter the unit in 2021. "Our timeline for shuttering this unit has been by Fall 2024 or sooner. As we progressed this year, it became apparent that the risk was too great to operate the unit for an extended period," said Joel Ivy, General Manager of Lakeland Electric.
After shuttering the unit, employees operating the unit will begin a five-month shuttering process to get the unit to a steady-state. The shuttering of McIntosh Unit 3 will result in some positions being eliminated. Affected employees are eligible for a generous severance during the five-month shuttering process. The City of Lakeland and Lakeland Electric are assisting affected employees to find other positions in the City of Lakeland, helping with resume assistance, and providing training opportunities.
Lakeland Electric will use its other natural-gas, diesel, and solar power generation capacity along with demand management, interruptible load, and power purchase agreements until replacement generation capacity has been built. As part of its NextGen plan, the utility will add five natural gas-powered internal combustion engines, a significant increase of solar power, and battery storage by 2024. The new natural gas generators will be more efficient and better able to manage capacity fluctuation typical of solar power. With this plan, the utility is on track to reduce carbon emissions by 67% since 2001.
The City of Lakeland Utility Committee approved an advisory vote on the power generation replacement plan on April 6, 2020. The utility expects to borrow $150 million through a variety of options, including bonds. An estimated 3.5% base rate increase is expected by 2023, less than the rate of inflation, although changes in the credit markets could modify the financial outlook. Lakeland Electric believes this plan is the best long-term strategy to modernize the power generation portfolio and prepare the utility for a better operational, environmental, and financial future.