OUC Aids Artificial Reef Project off Coast of St. Lucie County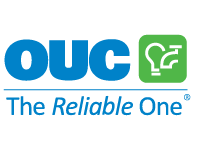 Utility's Donation of 200 Tons of Concrete Blocks Helps Create Marine Habitat
ORLANDO – OUC's contribution to an artificial reef project – more than 400,000 pounds of concrete blocks – now rests in 100 feet of water off the coast of St. Lucie County. The 200 tons of concrete were used to stabilize the 180-foot cargo ship Voici Bernadette on the ocean floor in addition to providing a sustainable environment for marine life.
The concrete came from land OUC recently purchased in St. Cloud to build a new operations and maintenance center, and a future substation – part of the utility's plans to enhance reliability and resiliency in the Osceola County service area.
Encircled by more than 250 boats carrying spectators, the ship was sunk on June 23 about 11 miles southeast of Fort Pierce Inlet. The U.S. Customs and Border Patrol had seized the Voici Bernadette in a drug smuggling bust and donated the Bolivian-flagged vessel to the St. Lucie County's artificial reef program.
OUC joined the artificial reef project in the weeks leading up to the Bernadette's sinking, partnering with the Coastal Conservation Association, St. Lucie County and other organizations. With the gutted steel ship needing added weight to keep it stable at a shallow depth, OUC found an environmentally responsible and sustainable solution to repurposing 78 concrete bin blocks weighing 6,000 pounds apiece.
"We were against taking these blocks to a landfill where they'd be of no help to the environment," said Linda Ferrone, OUC's Chief Customer Officer, who also oversees the utility's sustainability efforts. "By sinking the blocks with the ship, we're aiding in the development of a habitat that will not only be beneficial to marine life but also draw fishermen and divers. Reefs are economic drivers for coastal communities like St. Lucie County."
James Oppenborn, Coastal Resource Coordinator for St. Lucie County, said OUC's contribution to this artificial reef project "makes for a good reef in and of itself. Concrete modules make excellent habitat for smaller fish. They use the crevices and cracks as hiding places from predators." He added that concrete also stimulates growth of soft corals by proving surface area for benthic organisms to attach.
Coordinates for the new reef are approximately 27° 23.485'N, 80° 02.124'W.