OUC Recognized as 'Most Trusted' Nationally for Sixth Year in a Row
Date posted
August 1, 2023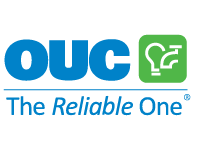 Utility Shares Ways to Save, Proposes Second Fuel Rate Decrease for Customers
The Orlando Utilities Commission (OUC—The Reliable One) has been named "Most Trusted Brand" among U.S. energy providers for the sixth consecutive year, according to a national customer survey conducted by the data analytics and advisory firm Escalent. With a score of 747, OUC placed first in the nation among electric utilities included in the 2023 Cogent Syndicated Utility Trusted Brand & Customer Engagement™ Residential study.
OUC debuted on the "Most Trusted Brand" index in 2018, and claimed the top score among U.S. electric utilities in the 2020, 2022 and 2023 surveys.
Escalent reports that "Brand Trust among utilities that have continued to highlight savings opportunities, environmental programs, and community support efforts across a variety of channels is 5% higher than the industry average."
OUC has a long history of providing assistance options for customers, and recently proposed a second fuel pass-through rate decrease for customers.
"We know times are tough for many, and our customers are feeling the strain, which is why we continue to provide and promote important assistance and energy savings programs," said Linda Ferrone, OUC Chief Customer and Marketing Officer. "At OUC, our customers have trusted us for 100 years to provide them with exceptional value and reliable service, which is why we proposed a second rate decrease in just four months."
If passed, the price decrease will take effect October 1, 2023, pending board approval in August and review by the Florida Public Service Commission. Combined, the utility's two most recent fuel rates decreases total a net average savings of $15/month for 1,000 kWh residential customers.
A variety of assistance options are available to OUC customers:
To learn more, visit www.OUC.com/assistance.
To learn about efficiency programs and ways to use less energy and water, visit www.OUC.com/waystosave.
Additionally, OUC's Project CARE is an assistance program that was established in 1994 to provide emergency relief to those experiencing financial hardships.
To see how OUC works to provide a valuable connection to customers and community, visit www.OUC.comOUC.comOUC.com/connected.