#ThankALineman: KUA Celebrates Florida Lineworker Appreciation Day
Date posted
August 26, 2019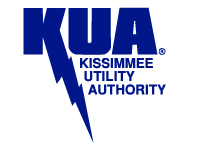 Kissimmee Utility Authority proudly celebrates Florida Lineworker Appreciation Day today to honor the skilled brave men and women across the state who work in one of the nation's most dangerous professions.
In 2012, the Florida House of Representatives introduced a resolution honoring the men and women in Florida who work as lineworkers, to be observed on August 26 of each year. This date holds particular significance for Lakeland resident Tracy Moore, whose husband, Marc, a lineworker for Lakeland Electric, died tragically on the job on this day in 2002.
Numbers from the Bureau of Labor Statistics put electrical lineworkers among the top ten most dangerous jobs in the U.S., according to the agency's most recent census.
In addition to serving its 77,000 customers in Kissimmee, KUA linemen are often called away from their families to help restore power to neighboring cities and states when major storms or disasters occur. In 2018, KUA's linemen traveled to Bennettsville, South Carolina to restore power to those impacted by Hurricane Florence, and to Tallahassee and Chattahoochee to help rebuild their city's electric systems following Hurricane Michael.
"Our lineworkers work with high voltage equipment in all kinds of challenging conditions to deliver safe and reliable power to Kissimmee's homes and businesses," said Larry Mattern, KUA's vice president of operations. "On this day, we honor and thank them for their dedication and service, and recognize the critical role they play in keeping the lights on."