Tips from Ocala Electric Utility to Save on Electric Costs this Summer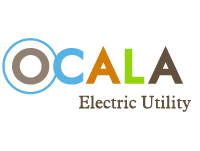 As temperatures continue to rise, Ocala Electric Utility (OEU) offers a few simple tips to keep homes cool and electric costs down.
Keep thermostats set no lower than 78 degrees when home.
Keep thermostats set at a minimum of 83 degrees or higher when away from home for more than four hours. Every degree below 78 degrees raises cooling costs by approximately six to eight percent per degree.
Change air conditioner filters monthly.
Reduce water heater temperature settings.
Keep blinds or drapes closed during the day to reduce heating from the sun.
Adjust ceiling fans to turn counterclockwise during the summer months.
Be sure to turn off or unplug any unnecessary lights and electronic devices.
"We want to encourage customers to download the MyUsage app," said Doug Peebles, Director, Ocala Electric Utility. "Available to all OEU customers for free, MyUsage will show daily details of your electric usage. This is a great tool to monitor energy use all year long, especially during the summer months".
For more information, please contact Ocala Electric Utility at 352-629-2489 or visit www.ocalaelectric.org.